Featured Online Program
Penn Foster
Request Info
Select Program:
Locksmith & Home Security Technician
Program Details:
Getting a career diploma in as little as 5 months.
Gain experience with practical exercises and interactive assignments.
Learn how to identify, create, and duplicate keys.
Learn to work with several types of locks including safes, valuts, and auto.
and more...
Sponsored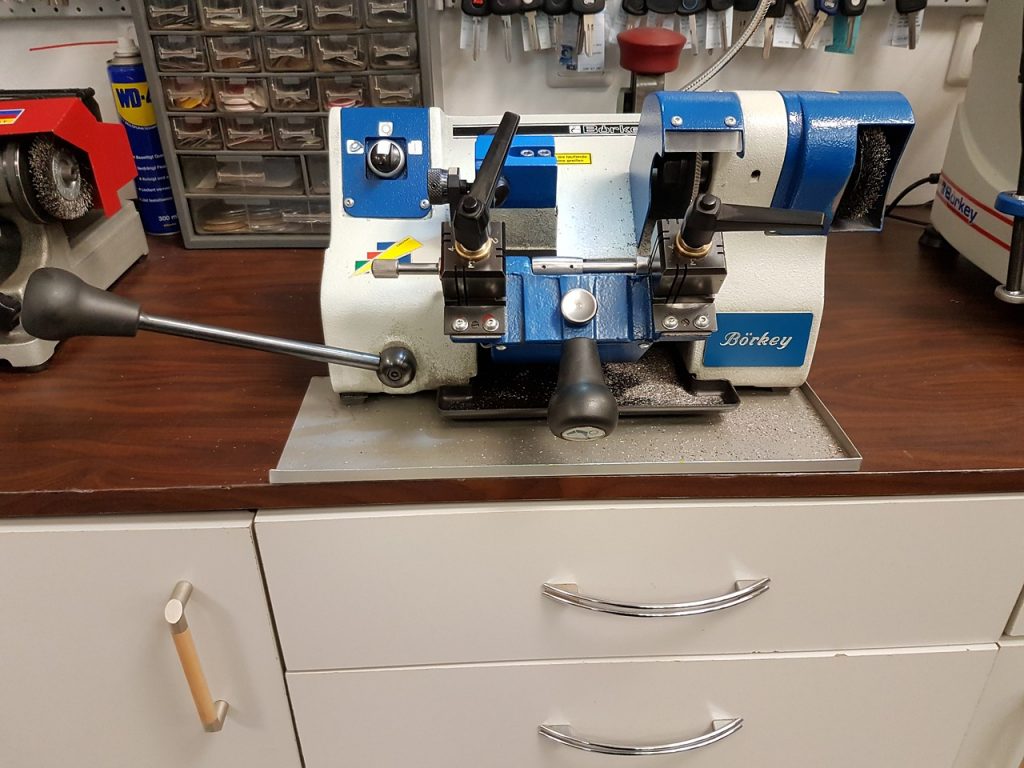 There are essential skills in human history that are not dying out.
But, fewer people are willing to devote their lives to such crafts.
These crafts are often referred to as old-timey and no longer needed.
Then again, while this is true for some fine arts, locksmithing is alive and crucial even in the modern era.
The science and art of making, repairing, and defeating locks is still a valuable trade that requires years of apprenticeship to attain perfection.
It is not something that you can learn overnight and be good at it.
You have to spend years learning from the masters of the trade and doing it.
Therefore, people are often shocked when they hear the locksmith's fee.
Since people have dozens of locks at home, at work, on their vehicles, they thought it is an easy job, and anybody could do it.
In this article, you will learn how much locksmiths' services cost.
What Services Does a Locksmith Offer?
There are three basic types of locksmiths.
Automobile locksmiths deal with vehicle locks and keys.
They are experts in anything auto-related.
Ensure you go with them when you need services for your truck, van, car, or any road vehicle.
The second type is the residential locksmiths who deal with residential locks and keys.
They are the ones to call when your house or apartment lock and keys do not work.
The third type is commercial locksmiths.
As the name suggests, they work in buildings with complex and heavier locks and keys.
Some locksmiths combine residential and commercial locksmithing, but automotive locksmithing only deals with vehicles.
Automotive Locksmith
As the name suggests, an automobile locksmith is responsible for all automotive lock and keys-related services.
Automotive locksmith's service is in demand locksmith as it is essential for working individuals who lost their keys and need duplicates.
Automotive locksmith also removes broken keys from locks, creates new keys, create new keys, and replaces locks on your car doors or the entire ignition system.
Auto locksmith offers both in-shop services when you want to duplicate your car key or mobile when you are locked out of your car in a parking lot or the middle of the desert.
Residential Locksmith
A residential locksmith can help you access your property and rekey your lock.
They also offer cutting services to provide you with a new key or replace the lock if necessary.
If you move to a new apartment, you can ask the property manager to replace the locks.
If you have damaged locks, a locksmith can help you replace or repair your locks.
You can also have a residential locksmith install single access in your home.
For example, if you want to upgrade your home security and opt for keyless entry, your locksmith can help you choose a system that suits your needs.
Commercial Locksmith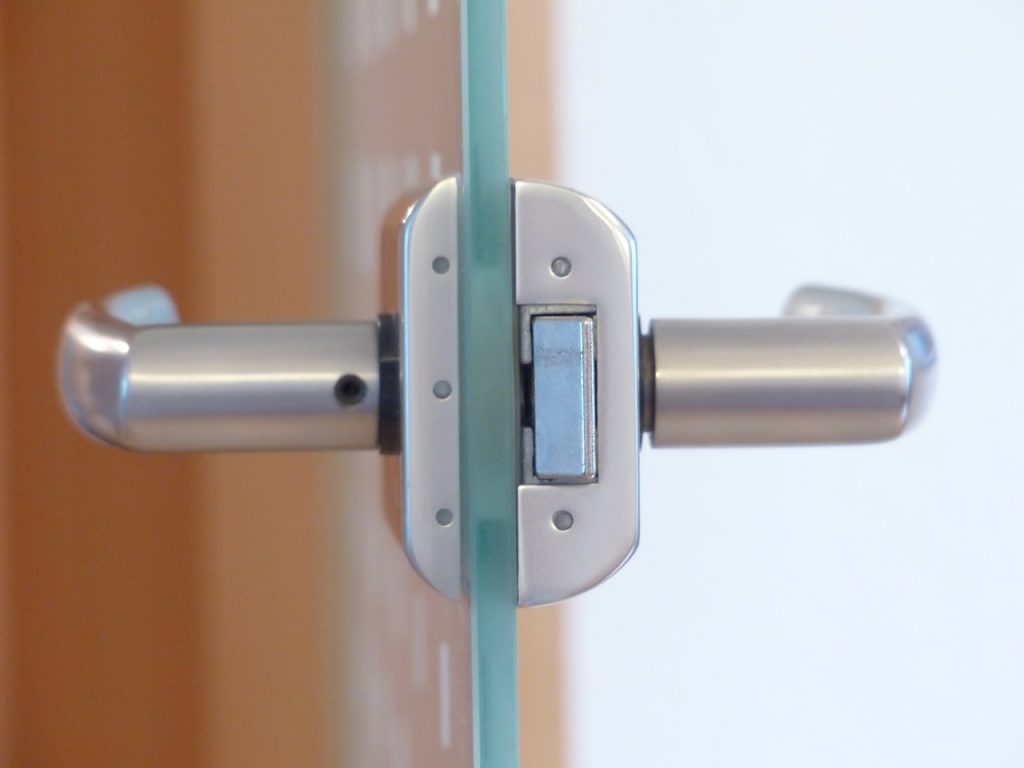 A Commercial locksmith does not only open and changes locks but install and services electronic and digital locks, access control systems, and master key systems.
Call a commercial locksmith if you need periodic maintenance or security installations.
For security compromise-related issues, a commercial locksmith can advise on the best locking mechanism depending on the level of security required.
You can also contact a commercial locksmith with your existing key breaks or a new employee joins the company, and you need spare keys.
Commercial lockouts are very common.
Get professional help from experienced commercial locksmiths to get you and the team on track.
For effective and affordable solutions to a safe master key system, a commercial locksmith can design a master key giving the owner or the manager complete control of the premises.
What Factors Influence Locksmith Pricing?
When it comes to the cost of locksmith services, it comes down to the location, complexity, skills necessary, time of the week, and availability of the locksmith.
Locksmiths work on a first-come-first-serve basis.
Even though they set appointments for non-emergency jobs, they will not leave a job because you have an emergency.
Choose a company offering locksmith services instead of an individual locksmith.
Ask for the fees up-front before hiring a locksmith, or you will be in for a surprise.
Travel Distance
When a locksmith comes to your office, car, or home, they will charge a specific fee based on the travel distance.
Some locksmiths have a flat fee for a specific service area and will charge extra for any job beyond that area.
If you are five miles away from the company's location, you have lesser charges than if a locksmith drives to your place for about 30 miles.
The locksmith price list is just a rough estimate. How far they are willing to travel to assist you.
Their rates do not include consumables meaning, the average cost to change locks does not include the replacement locks.
Complexity of the Service
Locksmiths handle a lot of different jobs.
The complexity of the service will determine the general pay scale.
For instance, installing a new lock on the front door is different from getting your keys out of your car.
Likewise, installing a commercial-grade lock is different from installing a residential lock.
Take note that when you call a locksmith and explain the job, they will only give an estimate.
Installing a single new door lock, for example, is much simpler than rekeying multiple door locks.
An easy comparison can be made between a standard house lockout and a secure residential lockout.
The latter is a much more difficult task that will almost certainly come at a higher price.
Fortunately, customers will not be entering the service blindly because a locksmith will provide you with a quote that will enable you to estimate the final cost.
Parts Needed for the Job
You must pay close attention to what is required to finish the job.
Locksmiths often provide the parts necessary to fix or install a lock.
Many companies have commercial and residential locks for sale.
Locksmiths also make key copies that require the materials and the machines to do as much.
Naturally, if you need parts with your service, it will cost you more.
If it is a basic lockout service, you do not usually have to worry about parts changes.
You do not always have to rely on locksmiths for replacement pieces.
You can buy the parts you need from a nearby hardware store or order them if you know what you need.
Cost of Labor
The locksmith company you call pays its employees.
Otherwise, nobody will help you get back into the house when you lock yourself out.
For this reason, you have to consider the cost of labor.
Typically, this is an hourly rate.
Labor cost is lower for a quicker fix than a 2 to three-hour job.
Once you get down to the nitty-gritty, you will notice that the cost varies by service because each service has its own set of specifications.
Length of Service
Most of the time, locksmith pricing depends on the length of time to complete the job.
A work that takes 4 or 5 hours to complete is more expensive than one that takes just a few minutes to finish.
It is uncommon for a locksmith job to take more than 5 hours to complete, but it does happen.
Installing commercial-grade locks on several doors in a commercial complex can take longer than the average task.
Locksmith Experience
A locksmith's experience has not always been a determinant of the cost, but in my opinion, it is a crucial factor to consider.
For instance, if you give the same job to an expert locksmith and a beginner, it is more likely that the former will finish the job quickly and with reliability regardless of its complexity.
It is more expensive to hire locksmiths from a company that has been in business for a long time.
A startup locksmith will charge less in exchange for building its reputation.
The experience thus allows a locksmith company to raise its rates.
However, experience always equates to higher rates.
Some people would go for beginner locksmiths who can get the job done for less, but this could cost you more money down the line.
If a beginner locksmith does a poor job, your property is vulnerable to burglars.
How Much Does a Locksmith Cost?
A locksmith can offer a diverse number of services.
Services are categorized as residential, commercial, and automotive.
If you need the services of a locksmith, consider the base price before getting into the finer details.
Base price is the minimum amount that you pay no matter what.
However, if you walk into a locksmith shop, the price you pay depends on the service you need.
Then again, if you call a locksmith to a location, you will be looking at the service call of $15 or more.
Let us break down the service cost.
Automotive Locksmith Cost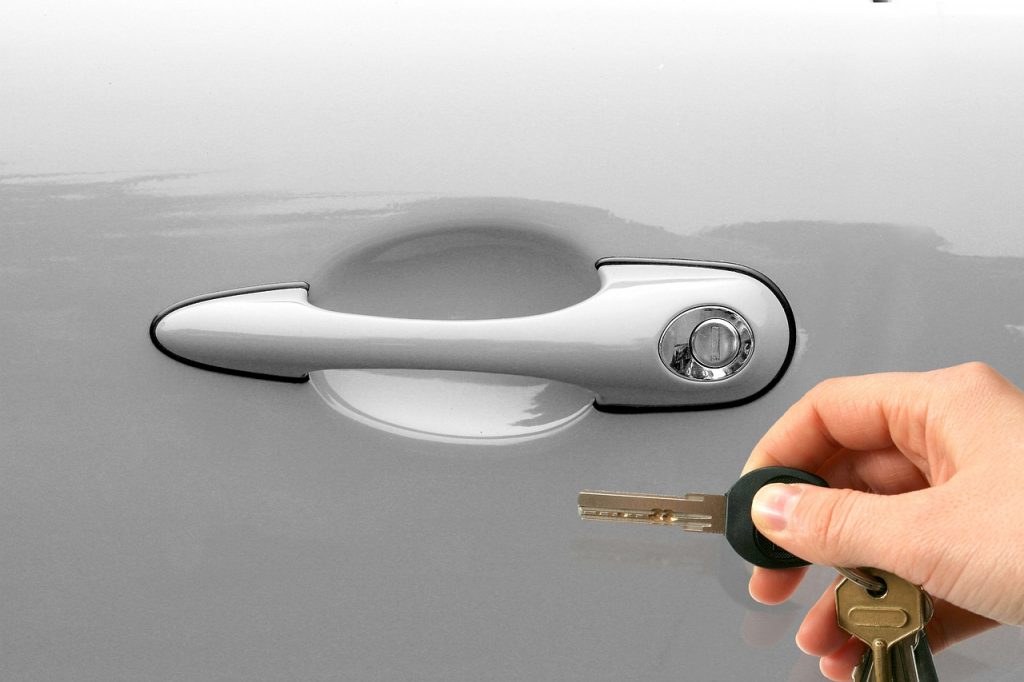 Car Lockout Services
As mentioned above, you should always start with the base price.
In general, the locksmith base fee for a car lockout starts at $35.
This price usually depends on the nature of the lockout and the locksmith.
Car lockout service is the general term for people who need assistance when locked out of their vehicles.
This lockout could be because they left their keys inside the car or lost them.
Car Key Replacement
Replacing a car key usually means the original key was lost or broken.
Car key replacement is not the same as car key duplication.
Basically, for car key replacement, you need a new key.
The cost to make a new key starts at $120 for most locksmiths, but it could cost more if there are additional services.
Car Key Cutting
Cutting a car key can be done in several ways, and the method used will determine the final cost.
One of the car key cutting techniques is coding.
Most cars today use a transporter key.
It is a form of anti-theft technology that prevents anyone from operating your vehicle using a different key.
The keys also come with a fob that allows the owner to lock and unlock the car doors.
Car Key Duplication
Car key duplication cost is not fixed because of the factors that determine the car duplication cost.
However, it is crucial to know that having duplicate car keys will reduce the probability of you getting locked out.
It all depends on the sort of key you are looking to replicate.
You will be inside the $2 price range if you have a traditional car key that only includes a simple replication.
However, if you have a transponder key, the cost of car key replication from a locksmith will start at $120.
Car Key Extraction
A car key extraction is usually needed when your car key breaks off in a lock or the ignition of your vehicle.
As complicated as it sounds and a slightly different approach, but in the hands of an expert locksmith, this job just is a breeze.
Typically, a car key extraction starts at $65 but prices may vary depending on the complexity of the extraction.
Remember that every extraction varies in severity.
For instance, there are times when the piece of a broken key is easy to extract, but some might need more work.
Transponder Key Programming
Transponder keys are used in almost all cars nowadays.
It acts as an additional layer of protection for your car.
A transponder key is essentially a key linked to a particular vehicle.
This is why duplicate and replacement keys are programmed to work properly.
Because of the extra services that typically come with transponder key programming, the total locksmith cost can easily exceed $120.
Some locksmiths charge anywhere between $30 and $75 for only programming.
However, since this operation is rarely performed on its own, the cost is about $120.
Key Fob Replacement
Replacing a key fob is similar to replacing a car key, with the exception that extra programming is needed.
This is done to ensure that your new key fob is compatible with your vehicle and works properly.
Depending on the locksmith, a key fob replacement will cost anywhere from $90 to $120.
Remember that these figures do not include the cost of programming.
When it comes to programming the key, you should expect the locksmith price to go up slightly.
Ignition Replacement and Repair
The word "ignition replacement/repair" is the term used for the ignition cylinder and the ignition switch.
Jobs involving a vehicle's ignition are usually challenging, and you cannot DIY your way out of this (unless you are confident in your abilities).
An ignition repair or replacement cost starts at $95 and varies depending on the amount of work required and the vehicle type.
Residential Locksmith Costs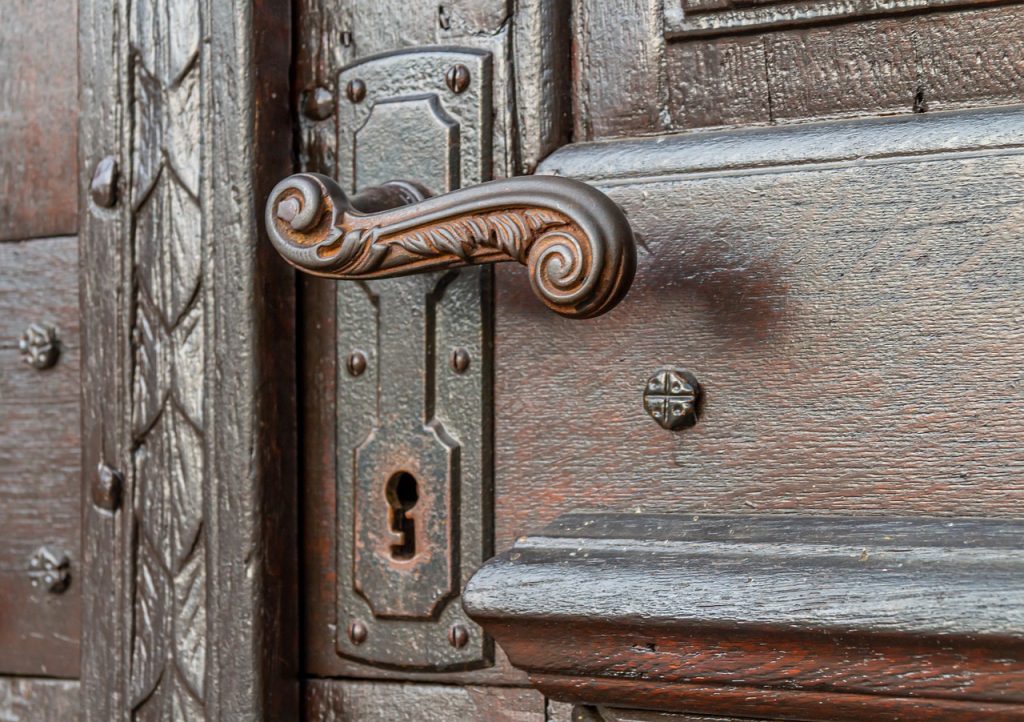 House Lockout Services
You might know someone who has been locked out of their home before, or you might be locked out yourself.
A house lockout is a very normal phenomenon that locksmiths encounter daily.
On the low end, a house lockout costs about $35.
There will be occasions when this service's cost rises, which is usually determined by whether the lockout necessitates extra work.
Door Changes
When a homeowner needs to fix a broken lock beyond repair or wants to update their locks, they usually change locks.
This occurrence costs almost the same as installing a new lock.
However, it may cost more if extra labor is required to make the door compatible with new locks.
The average cost of a lock change is $35.
New Lock Installation
When homeowners want to protect some new doors, they order a new lock installation.
This process entails double-checking that the door lock used are compatible.
A new lock installation usually costs $35, but it may often cost more.
This cost is most common when the homeowner often wishes to buy new locks from the locksmith.
Installation of Smart Locks
Smart locks have become very common among many homeowners and are used in a wide range of homes.
Installing a smart lock is equivalent to installing a new lock but necessitates some extra work.
Many smart locks have distinct specifications with a slightly higher price than a standard lock installation.
The price, on the other hand, typically starts at $35.
Lock Rekeying
The word "lock rekeying" sounds complicated but is also instructive.
Essentially, the lock is retrofitted for the lock to function as a new key or set of keys.
In the hands of an expert locksmith, this is done quickly.
This can be done quickly in the hands of an experienced locksmith, but it can take much longer if done by a beginner.
The cost of rekeying usually starts at $19.
Damaged Lock Repair
More often than not, you do not always have to replace the lock because you can always fix and repair them.
This method is typically a cost-effective approach that allows homeowners to keep their existing locks.
And yet, it is also important to understand that not all broken locks can be fixed.
Locks may damage over time if they are not as strong or you put too much pressure on them.
The cost of repairing a broken lock will range from $19 to $35, depending on the degree of damage that the locksmith must fix.
Broken Key Extraction
Extracting a broken key is two jobs in one because the locksmith has to repair the lock and make new keys.
Some people are lucky when they only need extraction services.
A broken key extraction costs $35, but it can go up to $75 or more in some cases.
This occurs as a result of the higher cost of other facilities.
Window Locks
Another aspect of locks that locksmiths deal with daily is window locks.
Repairing window locks is similar to repairing broken locks in that it requires roughly the same period to complete depending on the complexity of the locks.
Typically, this costs between $19 and $35.
Secure Lockouts in the Home
Safes have become commonplace in homes and are used to protect and safeguard a wide range of valuables.
Unfortunately, people like everything else that can be locked out, and have a hard time getting back in.
This may be due to a faulty locking mechanism or the fact that they have misplaced the key.
Safes are no exception, which is why residential locksmiths are skilled at assisting homeowners in gaining access to their safes.
The cost of repairing a secure lockout begins at $65 and goes up depending on the safe model and the type of lockout.
Commercial Locksmith Services
Office Lockouts
Office lockouts, like their counterparts, are a frequent phenomenon (auto lockouts and home lockouts).
People sometimes lose their keys, or locks become broken.
Whatever the cause, a locksmith should be able to assist you in regaining access to your office with minimal effort.
The price of an office lockout begins at $35.
The starting price is determined by the number of locks and the job's overall difficulty.
Installing New Commercial Door Locks
When a business needs to update its locks or fix damaged ones, the process of installing new commercial door locks is usually requested.
For new business complexes that require locks on their offices and units, this is also a mandatory procedure to follow.
The cost of installing modish commercial door locks starts at $35.
The price will increase depending on whether the consumer wants to buy the door locks from the locksmith or a third party.
Commercial Secure Lockout
Commercial safes are identical to residential safes, but they have some distinguishing features.
It is for this reason, that locksmith for commercial safes are here to help with secure lockouts and other related issues.
A secure commercial lockout starts at $65, in addition to the $15 service call charge.
The Bottom Line
Keep an open mind when you are dealing with locksmiths.
The nature of the company that sets its price is not fixed.
The information in this article is intended to guide you on how much locksmith costs, and it should provide you with some insight into locksmith pricing.
To save both you and the locksmith's time, make sure you're completely confident you need a locksmith's services before calling for one.