Featured Online Program
Penn Foster
Request Info
Select Program:
Locksmith & Home Security Technician
Program Details:
Getting a career diploma in as little as 5 months.
Gain experience with practical exercises and interactive assignments.
Learn how to identify, create, and duplicate keys.
Learn to work with several types of locks including safes, valuts, and auto.
and more...
Sponsored
So you're interested in becoming an Automotive Locksmith? While all locksmith specializations are considered evergreen – meaning they'll always be around – it is especially true of automotive locksmiths.  As long as there are vehicles, there will be people locking themselves out.
There are essentially 5 steps that are critical to becoming an automotive locksmith, all of which we'll discuss in detail.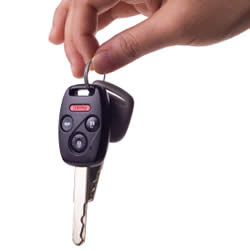 Step 1: Automotive Locksmith Training
We previously talked about the necessity of locksmith training, and training is definitely a benefit for those who are new to the field of locksmithing or even those locksmiths who are looking to expand their knowledge into automotive locksmithing.
What does automotive locksmith training typically consist of?
There are multiple places to register for locksmith training, but regardless of where you choose a typical training course will consist of the following:
Key Blank Identification
Vehicle Identification Number (VIN)
Understanding how Automotive Locks Function
Automotive Lockouts
Automotive Lock Cylinders
Door Problems
Impressioning
American versus Foreign Automotive Locks
Discussion of major automotive manufacturer lock types: GM, Ford, Chrysler, Acura, BMW, Daewoo, Daihatsu, Honda, Isuzu, Mazda, Mitsubishi, Nissan, Suzuki
Cars versus Motorcycles
Another additional resource you can use during your locksmith training or on your own is the guides provided by the Associated Locksmiths of America (ALOA).
Step 2: Automotive Locksmith Apprenticeship
We previously discussed How to Become a Locksmith Apprentice. Technically it is not required to become an apprentice, and sometimes it can be difficult to find a job as an apprentice.  But if you are able to it is recommended in order to become an expert in your field and learn from someone highly qualified.
Step 3: Certified Automotive Locksmith
The Certified Automotive Locksmith (CAL) is the newest certification offered by the ALOA.  This certification is achieved much the same as any other locksmith certification, by proving proficiency in the field of automotive locksmithing by passing a written examination after completing locksmith training.
Becoming a CAL is only required in 11 states, which we talk about here: States that require locksmith certification
So while you may not need a certification, it is highly recommended if you plan on making this a long term career.
Step 4: Obtaining an Automotive Locksmith Job
Once you've completed the above or feel comfortable enough to move into the field of Automotive Locksmithing then it's time to look for a job.
You can check out our Locksmith Job Listing to get started.  In addition, if you're curious the types of automotive locksmith jobs that will be available check out this list:
Individual customers
Automobile Dealers
Auto Auctions
Towing Companies
Roadside Assistance Clubs
Mechanic Shops
Rent-A-Car Companies
Corp Fleets
Locksmith Companies Referrals
City, County, and State Government
Step 5: Choosing the Best Automotive Locksmith Tools
Automotive Locksmith tools are used to unlock cars and help motorists who have locked their keys in the car or otherwise managed to lock themselves out.
Take a few minutes to gain a brief understanding of what tools are needed in an auto lockout situation by watching the video below.
If you're looking to purchase some of these tools or just find out more information here is a great list: Automotive Locksmith Tools
Take Action
Now that you clearly understand how to approach the field of automotive locksmithing, you need to take action.  If you really want to become an automotive locksmith it can be hard work, but hard work well worth it.
Also to get an idea of what you might be doing as an auto locksmith, check out the video below: