Featured Online Program
Penn Foster
Request Info
Select Program:
Locksmith & Home Security Technician
Program Details:
Getting a career diploma in as little as 5 months.
Gain experience with practical exercises and interactive assignments.
Learn how to identify, create, and duplicate keys.
Learn to work with several types of locks including safes, valuts, and auto.
and more...
Sponsored
As previously discussed, on your journey to become a locksmith training is not always required.
However, almost all successful locksmiths complete some type of professional training course that issues a certification or prepares them to become a certified locksmith. 
If you are serious about your profession or want to establish your self as a specialist then we highly recommend you look into some type of formal training.
Where to Find Locksmith Training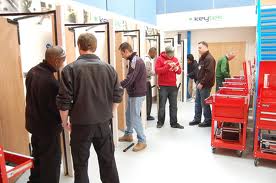 There are 3 basic options when it comes to locksmith training.
Enroll in a locksmith class online.
Utilize the list of schools and training courses created by the Associated Locksmiths of America (ALOA).
Find a local locksmith that will be willing to give you hands-on experience as a locksmith apprentice.
There really isn't a "best" method of training.  You should choose the training method that is most helpful for you.
What to Expect from a Locksmith Training Course
When deciding on a locksmith training facility or series of video training the following is a good guide of the curriculum you should expect to see.
Basic Curriculum
Introduction to Locksmithing
Key Blank Identification
Lock Identification (including a discussion on different types of locks)

Tumbler Locks (disc and pin)
Pad Locks

Storefront Door Locks

Knob and Lever Functions
Removing and Replacing Locks
Latches, Strikes, and Swings
Deadbolt Preparation

Lock Cylinders (including drilling and shimming)
Enter and Exit Devices (such as panic alarms)
Re-keying and Master  Basics
Impressioning
Assembling and Disassembling Basic Locks
Residential Lockouts (including how to handle clients)
Commercial Lockouts (including how to handle clients)
Automotive Lockouts
Codes and Laws (including Fire codes, key duplication)
Bonus Material
This is material that may not always be included, but you may want to consider it.
Planning/Starting a Business
Choosing a Specialization
If some of the above information isn't included that's okay.  But make sure you discuss the curriculum with the instructor and the expectations of the curriculum before beginning your training.
How Much Should You Pay for Locksmith Training?
Locksmith training costs vary based on what is included in the course.  We recommend you try to find a course that includes 4 major features:
Live Training or Training CD/DVD
Basic Locksmith Tools
Available Support Monday thru Friday
Locksmith Certification Exam
Assuming all of the above options are included you should be able to find a very high-quality locksmith training course online for $600 to $750 and at a facility for $750 to $1,000. There are increased overhead and instructor fees that raise the cost of taking a training course in a physical classroom, but some people find the hands-on experience well worth it.
Some training courses will include additional information which may increase the price.  It's recommended that you start with a basic course in the event you are unhappy with the training.
Other Benefits of Locksmith Training
With any business, the ability to network with other people in your industry is a must in order to be successful.  Whether you enroll in a training course online or at a physical institution you should make it a point to reach out to those trainers and discuss with them their experiences as a locksmith. This type of information is invaluable.
While locksmith training may not be a requirement, it is definitely a resume booster. If you are ever intending to branch out to more competitive locksmithing specializations (i.e. institutional locksmithing) many clients and future employers will require formal training. They want to ensure they are making a good investment in an individual.
For more information on locksmith training checkout our locksmith training video series. This video series is not all-inclusive, but it is a great start, especially if you're just looking to find out more information about locksmithing.