Featured Online Program
Penn Foster
Request Info
Select Program:
Locksmith & Home Security Technician
Program Details:
Getting a career diploma in as little as 5 months.
Gain experience with practical exercises and interactive assignments.
Learn how to identify, create, and duplicate keys.
Learn to work with several types of locks including safes, valuts, and auto.
and more...
Sponsored
Storage units come in handy when you are moving houses and you need a place to temporarily hold some of your items. They are also great when you have a lot of items in your garage and you need to de-clutter.
Seeing that these storage units serve a multitude of purposes, it is important to keep them secure at all times. Millions of people rent storage unit space every year; it is important that you choose a good lock to keep yours safe.
Below are some of the best locks for storage units in the market.
1. Desired Tools 4-Digit Combination Lock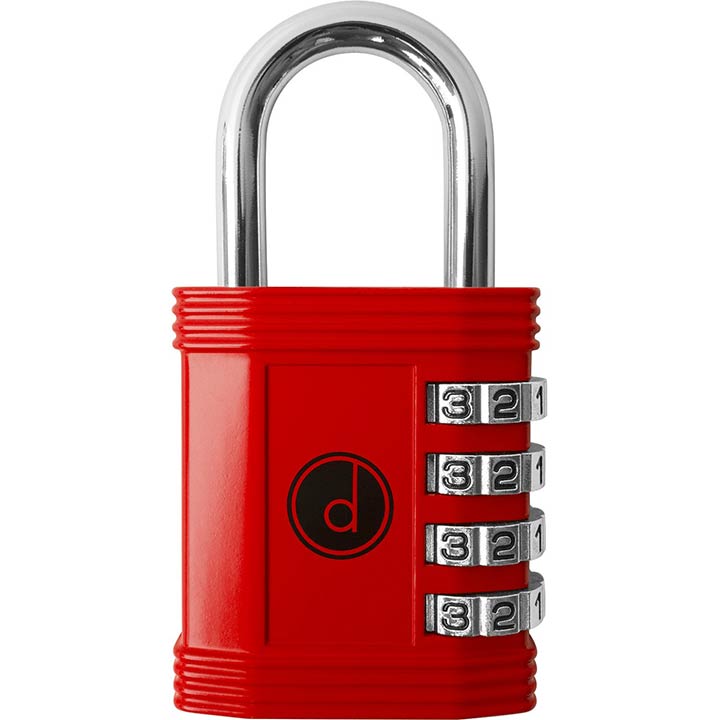 Pros:
Weatherproof
Stainless steel to avoid rust
Durable and sturdy
Easy to configure and re-configure
Cons:
The manufacturer keeps sending spam emails to customers
The Desired Tools 4-Digit Combination Lock was designed for storage lockers including school lockers and storage units. Its construction allows it to survive both indoor and outdoor environments. For strength and durability, the lock is made of zinc alloy and plated steel.
On one side of the lock are the digit combinations that you can easily set to numbers you will remember. The numbers are large and there is an extensive manual on configuring and re-configuring the lock.
---
2. Master Lock 178D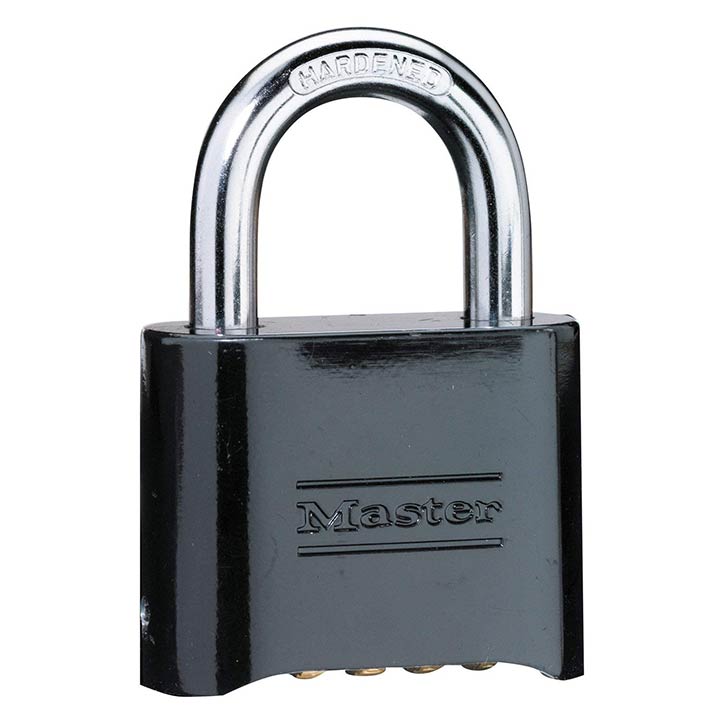 Pros:
It is easy to configure and re-configure
Thick shackle for added security
Wide and strong body for durability
Numeric combinations make the padlock tamper-proof
Cons:
The padlock is accompanied by a small key that is prone to bending and breaking
This lock is made of a solid body for strength and reliability. Its construction ensures the lock does not corrode or rust. It has a thick shackle to combat burglars who might think of cutting it. This being a combination lock, a manual accompanies the lock to help you configure and re-configure the lock. While the combination makes the process of opening easy, it makes it a challenge for crafty thieves to tamper with it.
---
3. ABUS 20/70 Diskus Padlock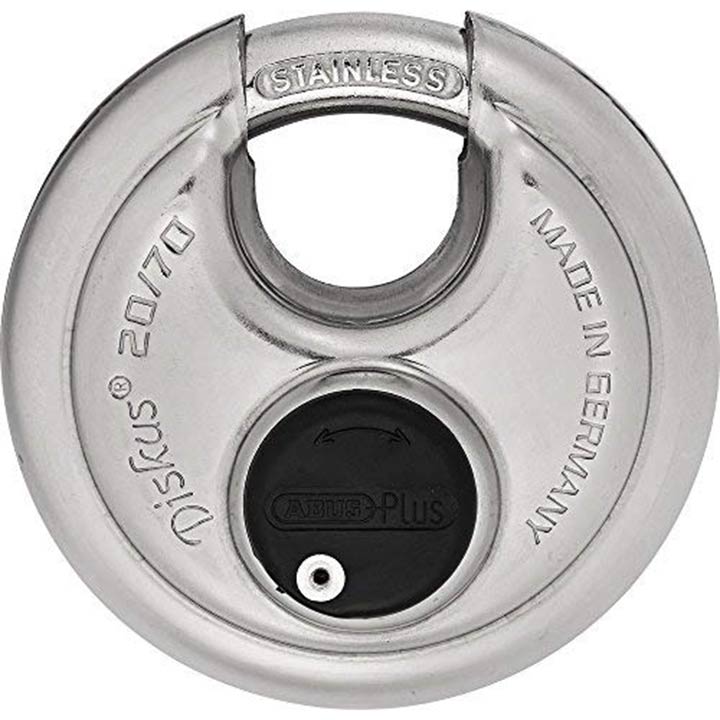 Pros:
Cannot be picked thanks to disk detainer
Stainless steel build
Makes too much noise when it's cut for added protection
Cons:
Replacement keys not easy to find
Diskus locks are designed with a small opening on the shackle thereby making them challenging to tamper with. They sport a stainless steel construction that makes them ideal for use outdoors and indoors and lengthens their life. Each lock comes with a disk detainer ensuring they cannot be bumped or picked. Even better, you can retrofit the lock with cylinder pulling protection.
---
4. Stanley Hardware S828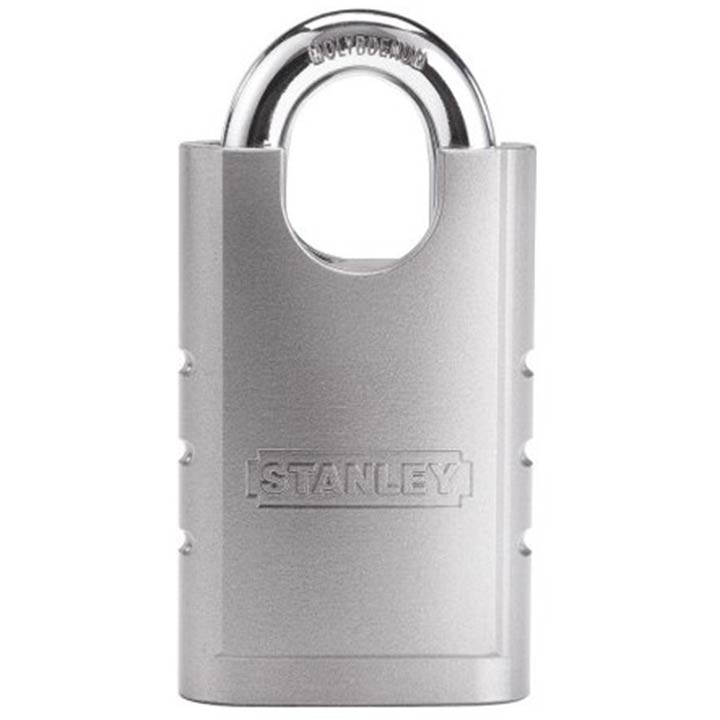 Pros:
Durable construction
A Keyway cover for protection from drilling
Re-keyable brass cylinder cannot be picked
Great price for its features
Cons:
It is not easy to get a replacement key for the lock
This padlock is designed solid to last for long and offer maximum protection. It sports a six-pin cylinder. It is made better by anti-pick pins and a hardened steel body to keep the contents of your storage unit safe at all times. The dual ball-bearing locking mechanism ensures the lock cannot be tampered with. Even better, the lock's shackle is made of durable steel that can withstand electric and manual saws.
---
5. Kwikset 50mm Smartkey Lock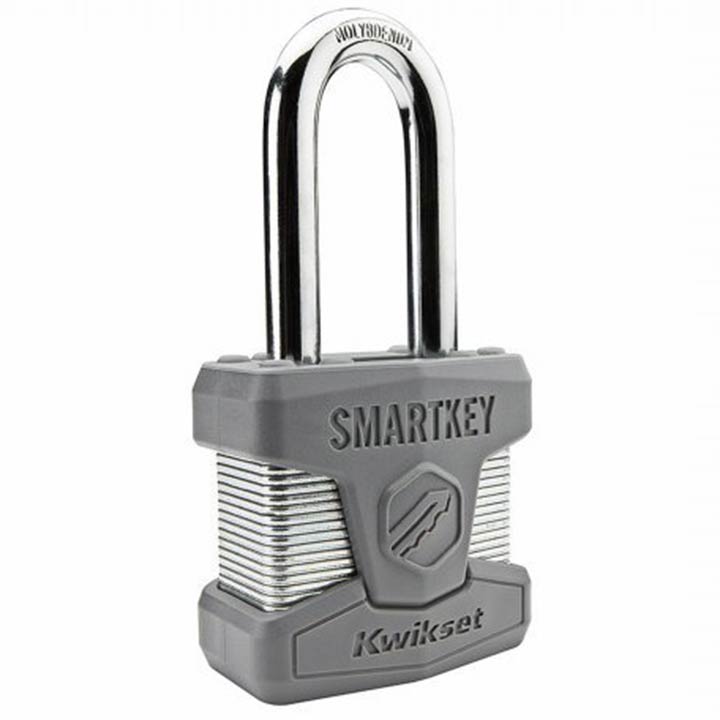 Pros:
The same key can be used to open multiple SmartKey locks
Key retention features ensure you do not accidentally drop your key
Shackle made from strengthened molybdenum for added security
The padlock sports a stylish look
Cons:
The look is prone to picking
This padlock sports a simple but convenient, strong, and durable design. It is easy to rekey; you can use the same keys for your house to open the storage unit. Beyond its stylish look, the lock is resistant to hammering, pulling, and prying.
---
6. Master Lock 930D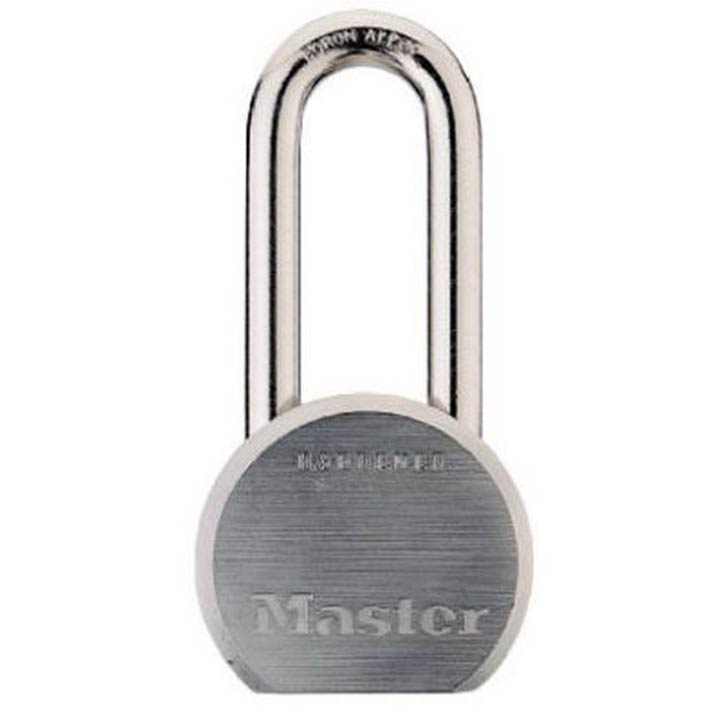 Pros:
Corrosion-resistant to last long
Solid steel body for strength and durability
5-Pin tumbler cylinder for easy repining and replacement
Dual ball-bearing locking mechanism for added security
Shackle made of hard boron alloy for added strength
Cons:
Shackle might be too large to fit in the latches of some storage units
The Master Lock 930D is very heavy; it is designed to combat cutting. The strong and wide body of this lock makes it an ideal choice when you are looking for a secure lock for your storage unit. This body is resistant to rust and corrosion. It has over 9000 key changes making it a challenge to pick it.
---
7. Master Lock Bluetooth Outdoor Lock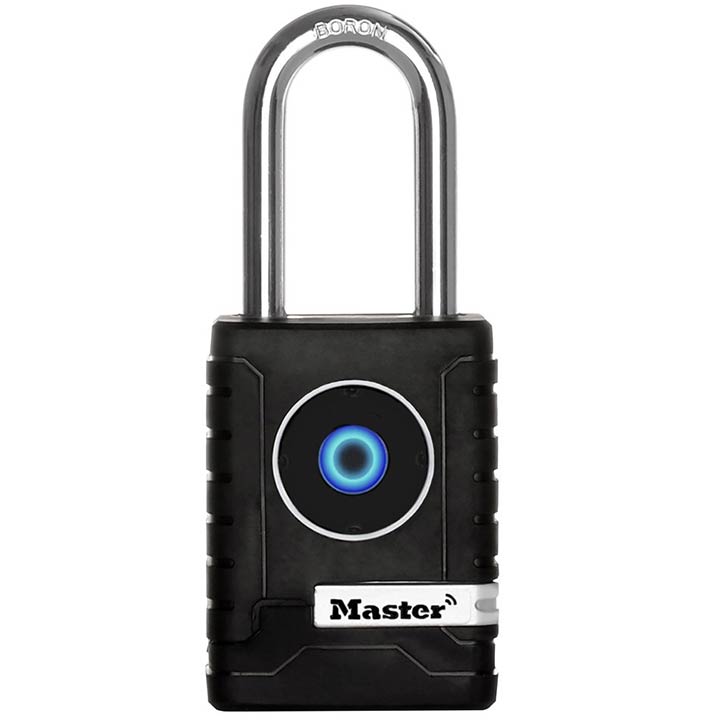 Pros:
A weather cover offered with the lock
Can be used in all weather conditions
Multiple users can be granted access
You can monitor who accesses the storage unit
Cons:
The app interface can be confusing to navigate
This is a keyless lock that requires you to install an app on your Android or iOS device to configure. Once configured, the lock will open at the touch of a button on your smartphone. If someone else is using the storage unit, you can give them either temporary or permanent access through an app on their smartphone. Besides the electronics, the lock is made of a boron carbide shackle to resist cutting by saws.
---
8. ABUS 37/80 Keyed Lock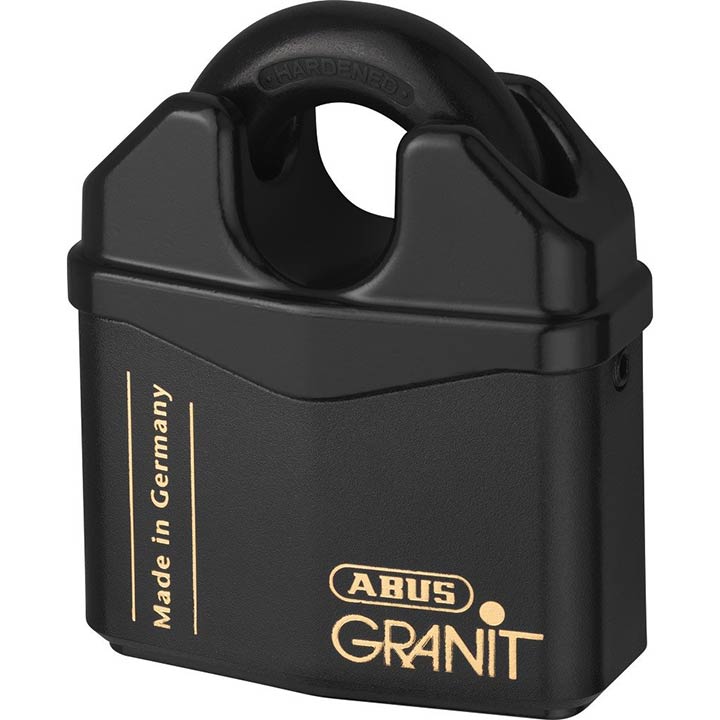 Pros:
Hardened steel combats most attacks
Key retention makes the lock more secure
Its cylinder is inserted from the top making drilling and pulling a challenge
Luminous keys make access easy
Cons:
The shackle might be too large for some storage unit latches
While this lock is relatively expensive, it sports a solid construction to give you value for money. It features the large and solid design of ABUS locks with no gimmicks or frills. It comes with a keying interface that produces luminous light for easy access. Its core hardened body resists cutting, drilling, or pulling.
---
9. Fingerprint Keyless Padlock by Pulse On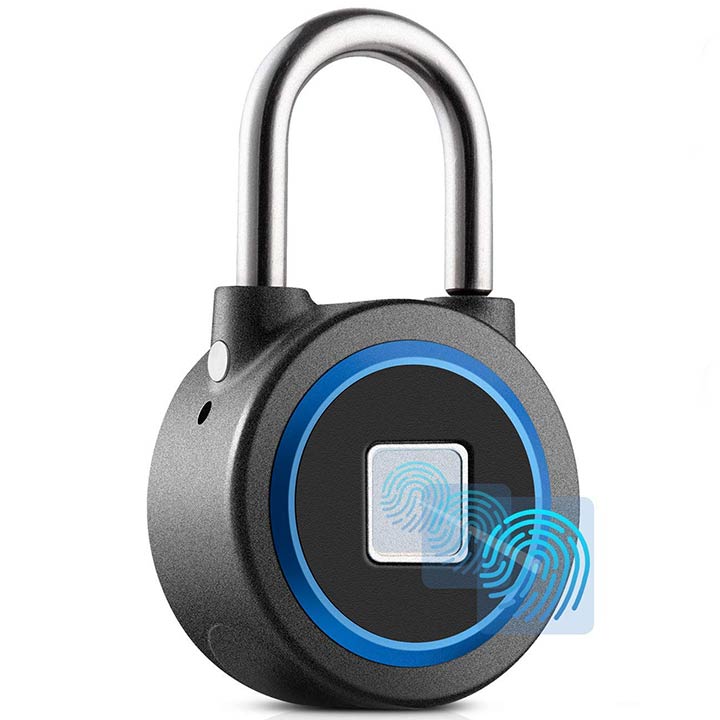 Pros:
Offered with an app that allows you access to your storage unit at all times
Weather and dustproof
Allows up to 15 different fingerprints
Long-lasting rechargeable battery
Cons:
The app collects too much personal data during setup
With this lock, your fingerprint is your key; just place your fingerprint on the lock and it opens fast. The lock comes with a rechargeable polymer battery that lasts up to 30 days. It is constructed from an aluminum alloy for strength and durability with a stainless steel latch hook that ensures it is not easy to cut.
---
10. ABUS 92/80 Brass Padlock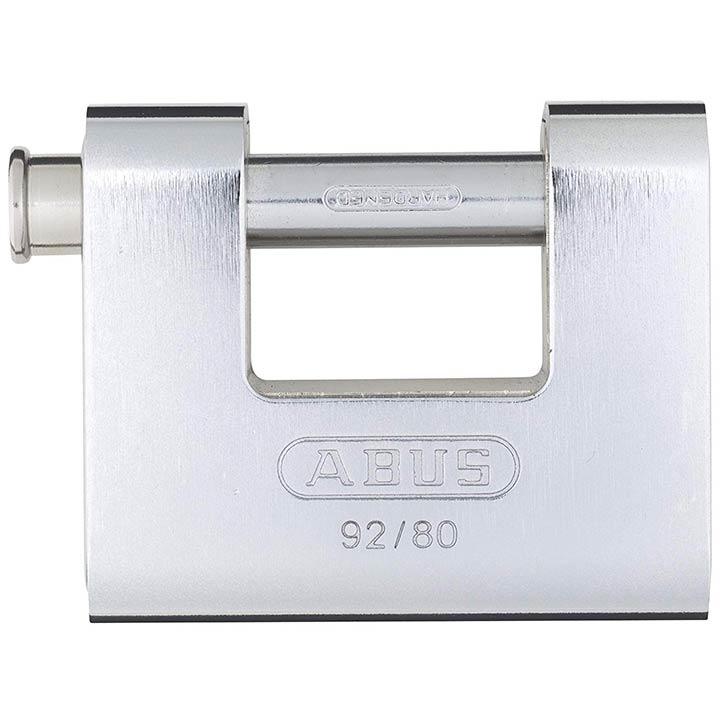 Pros:
More than a thousand key variations making the lock hackproof
Thick shackle made of hardened steel
Chrome-plated steel on the body makes the lock weatherproof
Highly durable
Cons:
The large shackle of the padlock might not be compatible with the latches of most storage units
The ABUS 92/80 was designed for security. It is a simple lock that is really strong. Each unit was designed to resist bolt cutters and to resist the effects of weather corrosion. ABUS created the lock with an 8-in precision cylinder that accommodates more than a thousand key variations.
Features to Consider
Material: Hardened steel and hardened brass are the most common materials. Padlocks made of weak metal are prone to cutting and pulling.
Shackle Size: The size of the lock's shackle should match the size of the latch of your storage unit.
Indoors or Outdoors use: If the storage unit is indoors, your lock is safe from weather elements. If the unit is outdoors, choose a lock that is weatherproof.
Cost: Your budget should determine the lock you buy. Premium locks tend to have premium quality materials or more convenient features such as Bluetooth.