Featured Online Programs
Ashworth College
Request Info
Program Includes:
Starter set of locksmithing tools
Beautifully illustrated locksmith lessonbook
ALOA Fundamentals Locksmith Certificate after passing exam
Opportunity to become an ALOA member to further your training and certification
and more...
Sponsored
So you've decided you want to become a locksmith…
You're attracted to the idea of being able to walk up to someone's house or car and have the ability to open it within seconds?
Do you dream of choosing your own hours and setting your own prices? Well… We don't blame you!
Locksmithing is an extremely rewarding and lucrative profession and it's even better when it's your own company!
But how should you start?
Should you book an expensive locksmith course or try and find an apprenticeship? Perhaps a part-time job in your local key cutting shop?
Learn How To Be A Locksmith From The Comfort of Your Own Home and Start a Locksmith Business For Under $500 that Can Make You Up To $800.00 + Per DAY!
Online Locksmith Course Vs Locksmith Training School
In our opinion, the best option would be to find a Locksmith Mentor. That way you can model what is really working in the real world.
If you know anyone who is a locksmith, try and convince them to take you on the jobs out on the road for a few days so you can attend some real-life situations and scenarios. Of course, this is not always possible for everyone so the other option would be to try and get a job with a locksmith company, maybe as an apprentice or general key cutter where you will gradually learn more on the job.
If you are thinking of attending a locksmith course or training school, just be aware as the staff here at How To Become A Locksmith we have heard many horror stories about students paying up to $2,500 for a 5-day course and learning very little practical skills. In fact, the course creator just tries to sell them all of the expensive tools!
So basically they were paying over $2,000 for the privilege of being pitched to for the entire course!
Then at the completion of the course, they have no real experience and little money left to get any type of business off the ground.
In fact, these courses won't teach you any aspects of setting your business up, it will just teach you how to open or replace a lock – stuff you could learn on Youtube with a bit of research!
The other option?
The other option to take a locksmith course online.
We managed to team up with The Locksmith Mentor: the creator of an online course called Locksmithing Secrets to help potential locksmiths get a locksmith business going with no experience and a small budget.
We present to you…
Locksmithing Secrets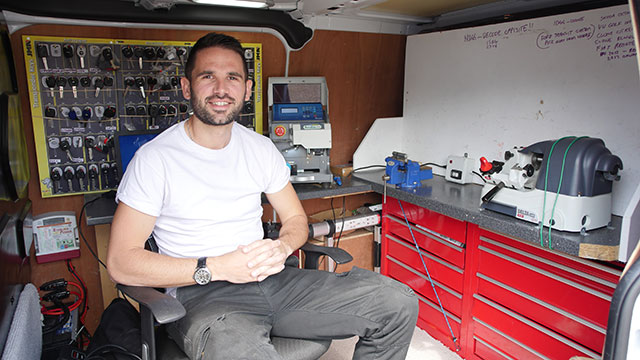 The course offers practical advice on picking locks and business advice to get your locksmith company going from the ground up.
They are qualified to teach you this stuff as the instructor is a certified Master locksmith with over 15 years of experience in the industry.
You can learn more about The Locksmith Mentor and Locksmithing Secrets by visiting this page.
Can you really learn how to become a locksmith from a locksmith course online?
The beauty of an online locksmith course is the fact that you can learn in the comfort of your own home and you have the options of watching the lessons over and over again.
Also, it will be much cheaper as you won't be paying for an expensive course, fancy tools, and hotel fees if the training center is not local to you.
What will you learn in the online locksmith course?
The first section of the Locksmithing Secrets online locksmith course will be theory-based and business-based. This will help you get your website up and running and learn what tools you will need and some other essentials such as how to take payments and keep track of your invoices.
As the owner has been running a locksmith business for the last 9 years, he really knows what it takes to succeed!
The second part of the course will be all practical such stuff such as picking locks, bypassing security – all the fun and exciting stuff!
The best thing about this locksmith course? Its price is a steal!
You can get access to the course and start learning how to become a locksmith with locksmithing Secrets right away by visiting the link below.