If you're looking to become a locksmith one of the best places to start is with an apprenticeship.  In fact if you read our previous article on how to become a locksmith you would have noticed that regardless what route you take we recommend an apprenticeship.
This goes for any type of locksmith, from automotive to forensic locksmithing.  Unfortunately apprenticeship in the United States is on somewhat of a decline, but consequently so are skilled trades.  Don't become just another locksmith.  Become the best.
What are the benefits of a locksmith apprenticeship?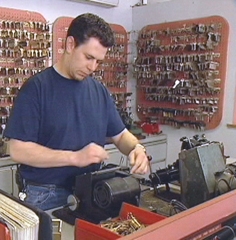 Here's a few benefits of becoming a locksmith apprentice, just to name a few:
Learn more about the locksmith industry while getting paid.  A journeyman locksmith could easily make $800 – $1,000 in a week.
Discover different aspects of locksmithing from a Certified or Master Locksmith.
Build relationships with successful locksmith in your community.
Create credibility by building up experience prior to starting your own business, or use the experience to build your resume for future jobs.
In addition to all those benefits, note that in some states it is required to complete an apprenticeship.
How to become a locksmith apprentice?
We're going to give you specific steps to complete in order to become a journeyman locksmith.
Sign up and complete a locksmith training course.  This is not mandatory, but it will show your potential Master that you are dedicated to the field.
After completing locksmith training you should have a better feel for which type of locksmith you'd like to work towards becoming.  Use this knowledge to make a list of local locksmiths in the same field.  You can look up locksmiths online, use the yellow pages, or even use the tool we link to at the end of this article.
Interview with multiple locksmiths.  Not just one.  We discuss this in more detail below.
Choose the locksmith that best suits your needs and lifestyle.
Complete apprenticeship.
Make sure you look into your potential Locksmith "Master"
So you've decided that it is a good idea to become an apprentice of a local locksmith?  Good, but that's only the first step.  Finding an apprenticeship is very similar to interviewing for a job, but you can't make the same mistake most people make.
When most people interview for a job they often forget that not only are they being interviewed, but they must actually do some interviewing too!  The last thing you want is to end up working for someone you don't even want to be around.  If you just say yes to the first locksmith that accepts you as an apprentice you could very well end up working for an unqualified, unethical "locksmith".
To be the best you want to learn from the best.  So be patient when searching for your apprenticeship, and remember that while you want to impress them with your eagerness and ambition, they need to impress you with their certifications, willingness and success as a locksmith.
Click here for a neat tool to find certified locksmiths in your area.
What to do after your apprenticeship?
We'll be touching on the steps to take during AND after your apprenticeship in our next article.  So make sure you check back in with us as we're always trying to provide the most up to date content.
Good Luck!  We hope you become a locksmith apprentice.