Featured Online Program
Penn Foster
Request Info
Select Program:
Locksmith & Home Security Technician
Program Details:
Getting a career diploma in as little as 5 months.
Gain experience with practical exercises and interactive assignments.
Learn how to identify, create, and duplicate keys.
Learn to work with several types of locks including safes, valuts, and auto.
and more...
Sponsored
Thanks to companies like Bird and Lime, electric scooters are on pace to be more popular than bikes in large cities. After renting, many people are buying their own.
But there's a problem.
Scooter enabled crimes in places like New York City have been declared an epidemic. So, it is advisable to have your scooter locked at all times. With so many bike locks on the market, it can be challenging to pick one that meets all your needs, especially since there aren't a lot of scooter specific locks just yet.
We've combed through hundreds of scooter and bike locks to compile a list of what we think are the best options for your scooter.
1. Kryptonite Fahgettaboudit Chain Lock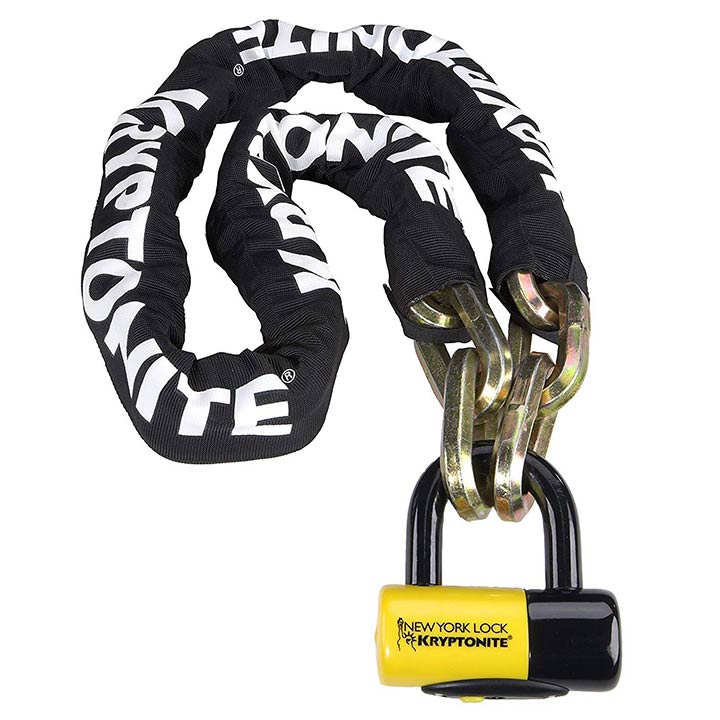 Pros:
Made of 14mm hardened steel
Heavy duty
Durable construction
Cons:
Feels bulky on your scooter
This is one of the heaviest but among the most secure locks on this list. It is a simple 14mm six-sided chain link lock that cannot easily be broken through. The chain is covered with a nylon material that keeps it safe from weather elements.
---
2. Sportneer 5-Digit Combination Lock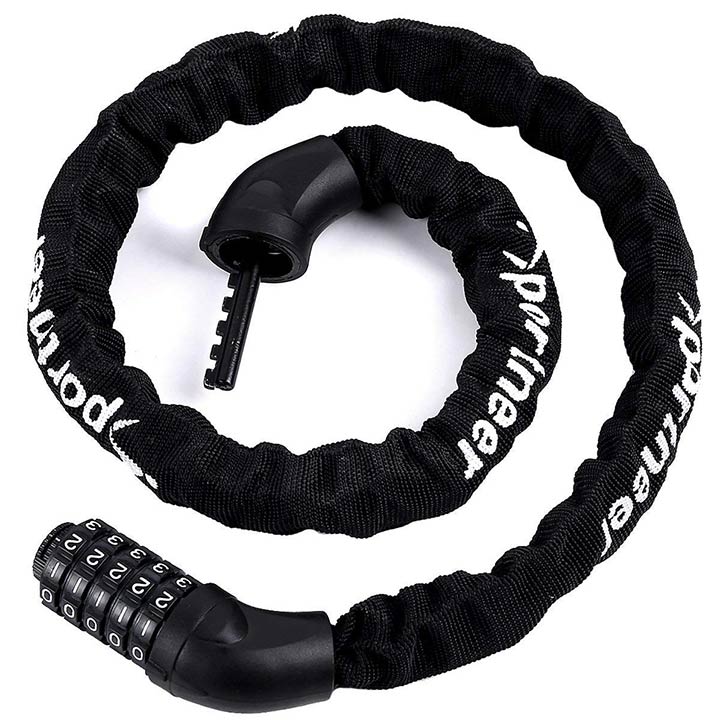 Pros
Easy to use
Wide range of possible code combinations
Cable is flexible
Can be used indoors and outdoors
Durable construction
Cons
The outer cover soaks with water when it rains
This is an easy to set 5-digit combination lock that keeps your scooter secure. Use the rotating dials to set one of the possible 100,000 code combinations; this ensures that the lock is impossible to crack. It sports a durable cut resistant cable made from extra thick steel. On top of the cable is a cut-resistant coating for added strength that is flexible and durable.
---
3. SIGTUNA 16mm Heavy Duty Bike Lock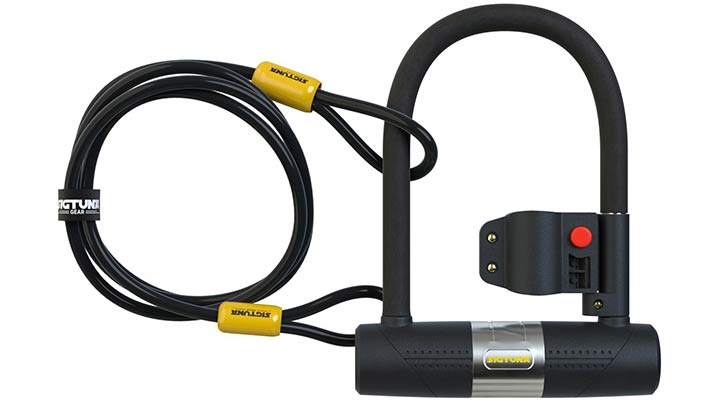 Pros:
Very easy to use
D-lock is cut-proof
Comes with a dust cover
Made of high-performance 16mm steel
Durable construction
This is a heavy and strong lock to keep your scooted secured at all times. It is made from 16mm of high-performance steel that comes fitted with a double locking mechanism. Its construction guarantees its durability while ensuring the lock protects your scooter from anyone trying to pull it. On top of the cable is a scratch-resistant cover to enhance the life of the lock even more.
---
4. Via Velo Heavy Duty U Lock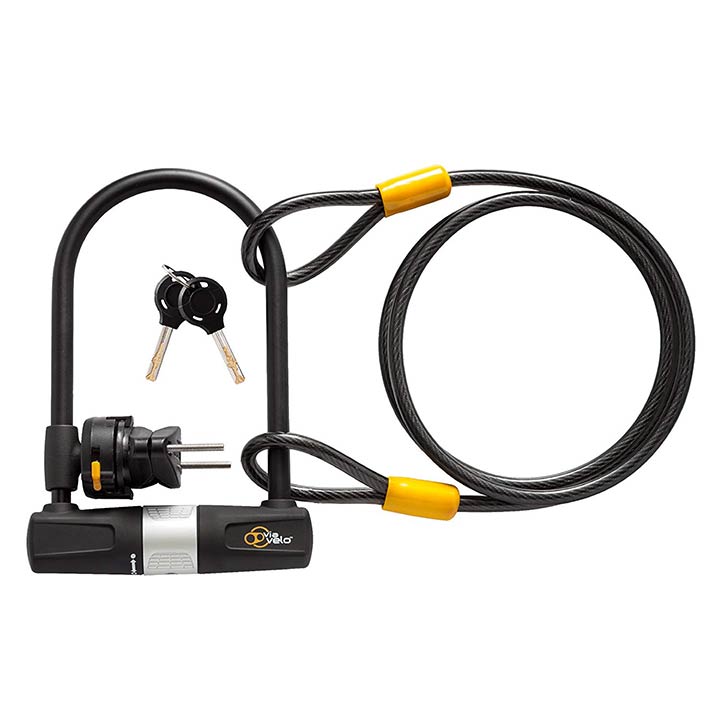 Pros:
Made of 14mm bar
Comes with a spare key
Can be used in all weather conditions thanks to PVC coating
Cons:
The PVC cover is relatively less durable
The Via Velo U lock is designed strong and durable and can be used in all weather. Its design is simple yet it offers great protection against burglars. To protect the lock, it comes with a hexagonal PVC cover to resist corrosion and keep off weather elements. You are offered a spare key for the lock in case you lose one. Its rugged construction ensures that it can withstand impact if someone tries to break it.
---
5. Titanker 6-Feet Combination Bike Lock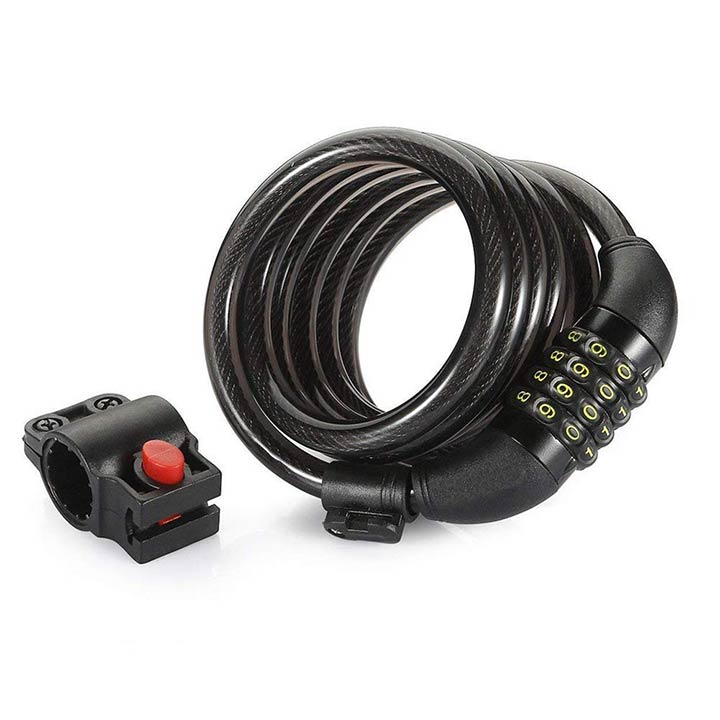 Pros:
Longer cable for extra security
Durable construction
PVC coating for added security
Multipurpose construction
Cons:
Extra length means it is pricier
This is among the longest cable scooter locks on our list. It is so designed so you can wrap it around your scooter multiple times. Each unit comes with the simple design you can expect from Titanker yet strong enough to keep your scooter secure at all times. The combination lock is easy to use; you only need to set a four-digit code and you are safe to go. The high-performance cable has a coating that protects it from the weather.
---
6. Amazer Heavy Duty Combination Lock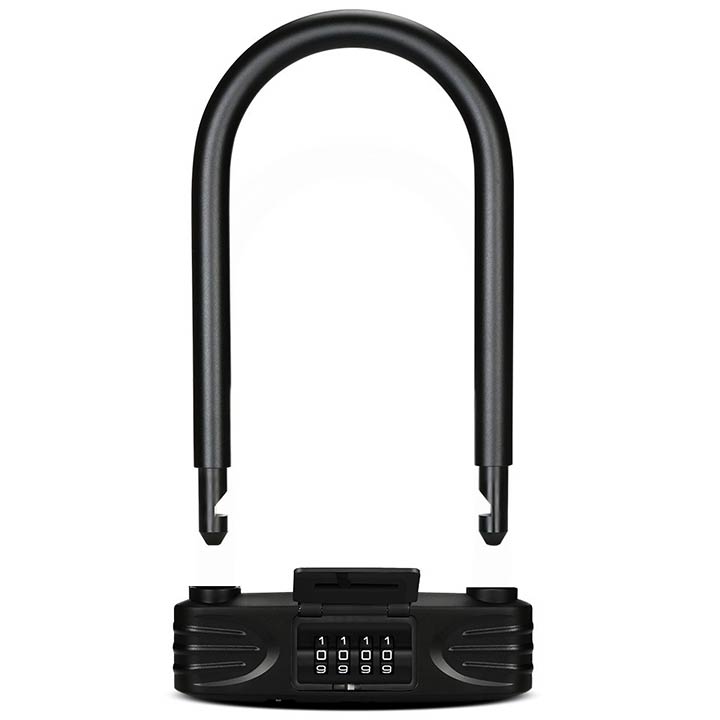 Pros:
Durable
Strong PVC coating to resist scratching
Easy to set codes
Heavy-duty construction for rugged use
The Amazer Lock sports a simple design yet offers heavy-duty security you would expect from bigger locks. The lock is made from 12mm hardened performance zinc, a material that is most common on the shackle of most padlocks. Its bar is coated with a PVC material to ensure that it lasts for long.
---
7. Kryptonite 2079 New U Evolution Mini7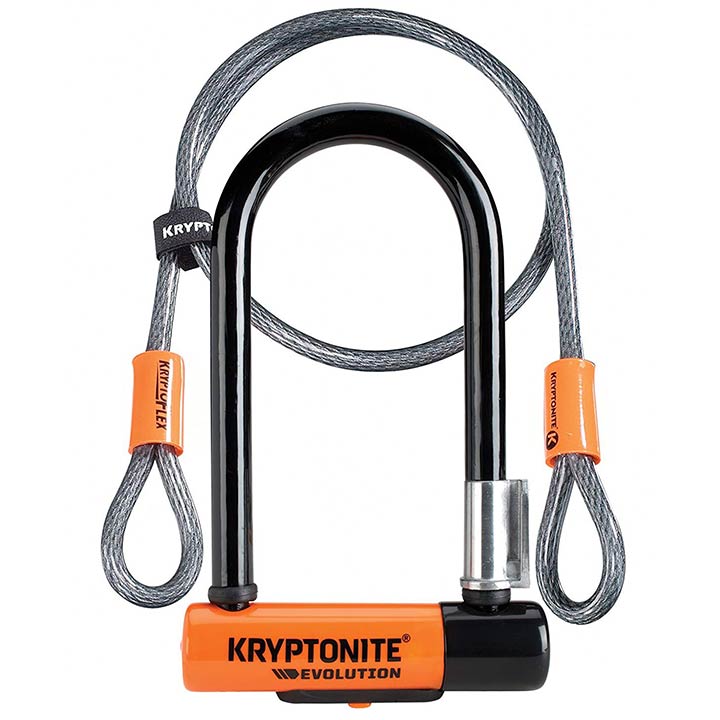 Pros:
Made of 13mm hardened steel
Sliding cover
Spare keys provided
Double deadbolt design for added security
Flexframe U Bracket
Cons:
Small size may not saddle your scooter on some rails
Kryptonite has produced some of the leading bike locks; and they have a wide range of bike lock models. The Mini 7 is a smaller model but it comes rugged to offer enough security for your scooter. It is made from 13mm hardened steel to keep bandits away and shun their thoughts of cutting the cable. Each unit features a double deadbolt mechanism making the lock as secure as you need.
---
8. Schwinn SW77861-3 Coil Lock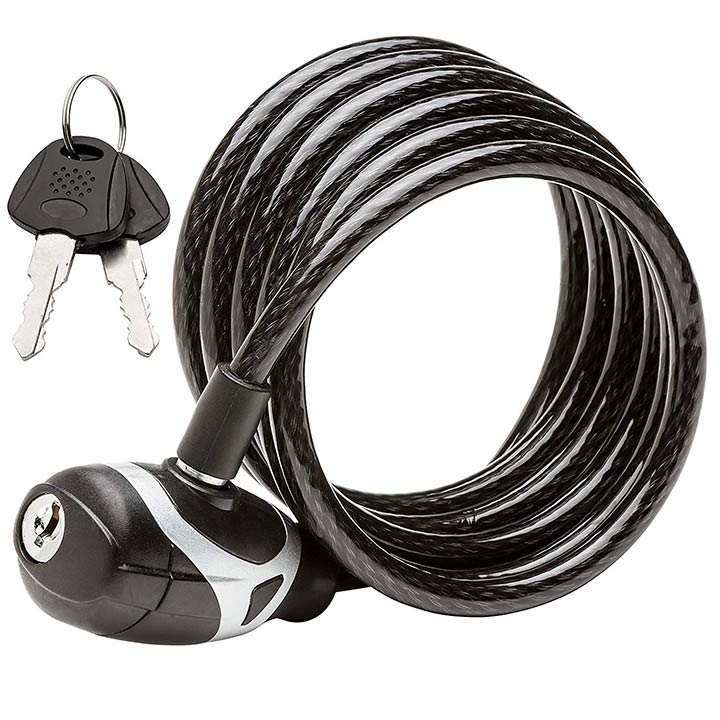 Pros:
Coils with ease
Light in weight
Comes with a spare key
Durable construction
The Schwinn SW77861-3 Coil Lock is a relatively smaller bike lock that you can coil a few times around your scooter's wheel before locking it with a key. It is made of 8mm braided hardened steel cable that is resistant to weather elements. You are given spare keys with the purchase of this lock. Again, the cable lock is light in weight and you can lock it anywhere on your scooter when you are riding.
---
9. Terra Hiker Bike Chain Lock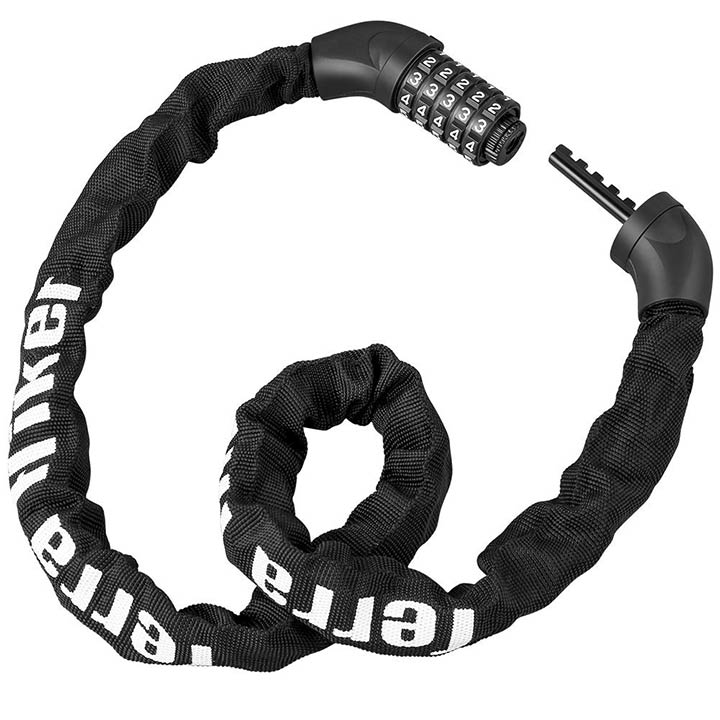 Pros:
Zinc alloy makes the cable durable
Easy to set combination code
Scratch-resistant
Highly secure
Originally, this lock was made for hiker bikes but it comes in handy for electric scooter owners. It comes with a simple 5-digit combination locking mechanism; you can set up to 100,000 codes that ensure your lock cannot be tampered with. Its cable is made of strengthened zinc alloy with an ABS cover that won't crack even at the lowest temperatures.
Features to Consider When Shopping for a Scooter Lock
There are different types of scooter locks each designed to offer security and convenience. A good type of lock for you is one that meets your needs and preferences. Before you pick a lock, always outline why you need a bike lock; this way, you will always pick the right one.
Cable Locks
These are the most common types of locks. They come in handy if you love wrapping your bike around. Some sport a combination key locking mechanism while others come with a core and key. Ensure that the cable of the lock is cut-resistant and made of a strong material such as hardened steel.
Disc/U-Locks
These locks are sturdier than cable locks making them impossible to break. However, most of these locks are bulkier and you can feel their weight on your scooter. They are great if you love a lock that opens and locks with ease without the need for a code.
Chain Locks
Chain locks are a classic. They are very heavy but they offer heavy-duty protection. The chains do not bend, break, or snap but they are heavy to carry around.
Here's a video by Bennetts Bike that recaps what we discussed above: