Featured Online Program
Penn Foster
Request Info
Select Program:
Locksmith & Home Security Technician
Program Details:
Getting a career diploma in as little as 5 months.
Gain experience with practical exercises and interactive assignments.
Learn how to identify, create, and duplicate keys.
Learn to work with several types of locks including safes, valuts, and auto.
and more...
Sponsored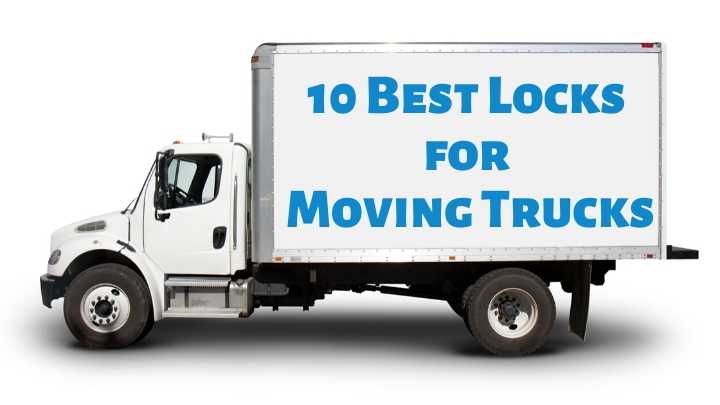 Moving trucks carry both valuable and less valuable items.
You might be helping a jewelry store move shops or helping someone move houses; in either instance, you need to keep the truck secure from break-ins.
A good padlock for a moving truck should be resistant to picking, should be resistant to saw cutting, and should offer great value for money.
Again, the padlock needs to be versatile and shackle to match the size of the truck's hasp.
Our Budget Pick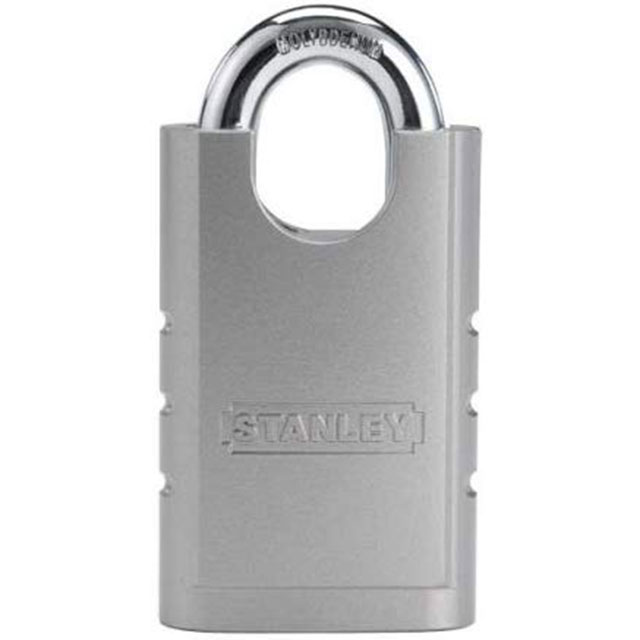 Stanley Hardware S828-152 CD8820 Shrouded Hardened Steel Padlock
Below are nine of the best locks on the market.
1. Sargent & Greenleaf 951C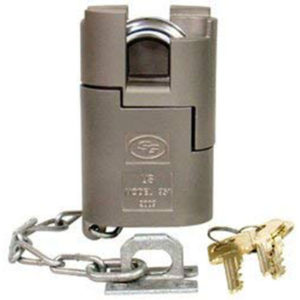 This padlock was designed for military use. As such, it is easy to take care of, take up, and replace the standard Medeco core that it comes with. The lock is pricey compared to others on the list but it offers military-level security especially if you move valuable items in your truck. Its shackle is heavily shrouded for added security. The lock has ceramic inserts to resist cutting and anti-drill shield to ensure the drill does not bite.
Pros
Thick shackle for added security
Offers military-grade security
Cons
Most expensive lock on the list
---
2. ABUS Granit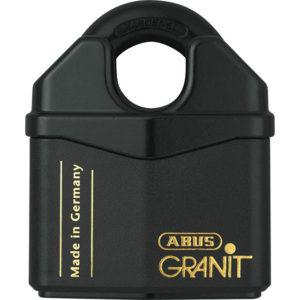 This lock is also called insurance lock; it is called so because some insurance companies only accept to insure your goods if you use this padlock. It offers a great deal of protection and comes in different models with different shackle sizes. You can also go for a shrouded shackle for added protection. This German lock has a tensile strength of 6 or more tons to withstand impact.
Pros
Very strong and durable
Made of a pick resistant core
Disk detainers for added security
Different models available to meet the needs of any moving truck
Cons
---
3. Stanley Hardened Steel Lock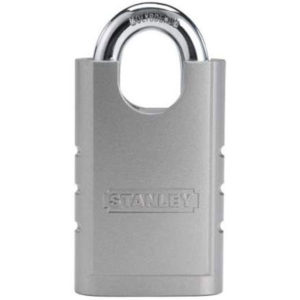 This is a simple lock that sports a changeable core making it easy to upgrade. It is offered at a fair price to meet all budgets. For the price, you get a Schlage 6-pin core and security driver pins to make the lock safe for your truck. Its shackle is shrouded and sports anti-drill plates on its hardened steel body and shackle. It is easy to repin the padlock or change the core if you need more security.
Pros
Easy to repin or change the core
Durable construction
Ideal for indoor use
Cons
The lock might be prone to picking
---
4. ORIA 4-Digit Combination Lock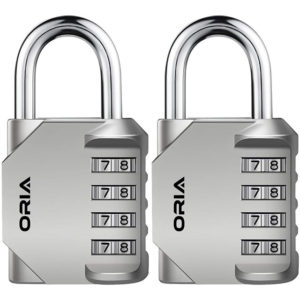 This is a 4-digit combination lock that was designed to enhance the safety of your moving truck. It is relatively easy to configure or re-configure and with a 4-digit combination, it is not easy to hack the lock.
Pros
Rugged construction to withstand the weather
Strong build for added security
Easy to configure and re-configure
Great price
Cons
The keys start making noise after sometime
---
5. Abloy PL 362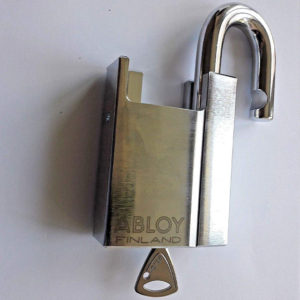 Abloy PL 362 is designed with a disk detainer system with more than 2 billion key combinations. Its keyway is recessed into its body making it a challenge for burglars to pick the lock. The lock is very large making it more secure. Its body is made from hardened steel while its shackle is made of boron steel alloy. To further protect the padlock and your truck, the body of the lock has anti-drill protection to keep it safe from burglars.
Pros
Shackle protected by a shroud
Hardened construction to last longer
Impressive design with 2 billion possible key combinations
Cons
Large shackle may not fit into some latches
---
6. Mul-T-Lock MT5+ NO13 C Series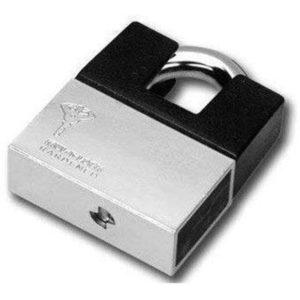 One of the features that make this lock great is the MT5 plus core which is an improvement of the MT5 series. This means that the lock offers better protection that locks with an MT5 core. It also comes with a set of sliders that works together with the dimple cuts on either side of your key to ensure the lock is pick resistant. Better yet, the key has an alpha spring that makes it a challenge to duplicate.
Pros
Pick resistant
Durable construction
Features a shutter that ensures the cylinder cannot be picked
Steel body and shroud for extra protection
Cons
---
7. Medeco M3 Shrouded Padlock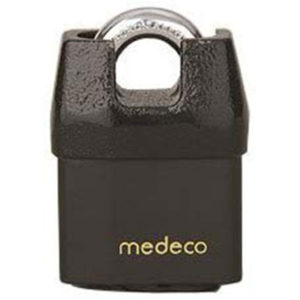 This padlock comes with a hardened steel shroud to protect the hardened steel shackle for added security. It sports the latest M3 model core which has been improved to ensure that it is not prone to picking. Its body is made of strengthened brass to make the lock more secure on your moving truck. The lock is versatile and designed to resist the weather and stand up to industrial and traveling environments.
Pros
Big alloy shackle for added security
Comes with a steel shroud for strength
Brass body is covered with a weathering protection
Cons
Brass body is relatively less durable
---
8. Best Access Systems 21B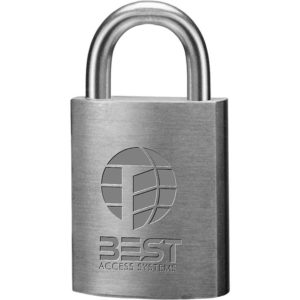 This lock features seven pins with thousands of keys for added safety and a master key system that makes it ideal when you need added security on your truck. Its paracentric keyway restricts access to this lock making it a challenge to access. In case you need more security, you can easily change the core of this padlock to a premium core.
Pros
It is easy to remove the core and change the key
Shackle is constructed strong
You can add a shroud for added security
Short shackle makes it a challenge for thieves to cut
Cons
---
9. Ingersoll 10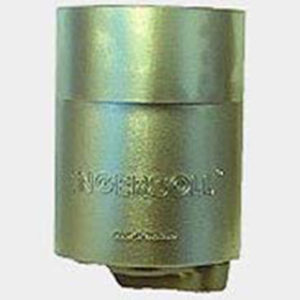 Ingersoll locks use their branded 'impregnable' lock core that uses a lever locking system. Each system has ten levers that allow the lock almost the same as a car lock. Ingersoll 10 is an improvement of another 6-lever lock. It comes with a shroud that surrounds the shackle to a point that you can almost never see the shackle. Again, the shackle is full-release which means that for a thief to cut it open, they need to cut it twice.
Pros
Circular shroud for added protection
Strong construction to resist impact
Full-release shackle
Cons
Features to Consider When buying a Lock for your Moving Truck
Shackle: The shackle should have ball bearings to resist shimming. The above padlocks have ball bearings making them challenging to bypass.
Shroud: A shroud adds another layer of protection by covering the shackle. This means that any thief looking to cut the shackle will first cut the shroud before the shackle.
Core/Cylinder: The pins on the core – which is the part where you insert the key – determine whether the lock can be picked or not. A good core should have multiple pins to guarantee multiple possible key combinations and added security. Some cylinders are changeable in case you do not like the security they offer.
Other factors include an anti-drill plate which ensures the drill cannot bite into the metal and hardened metal that makes cutting a challenge.