Featured Online Program
Penn Foster
Request Info
Select Program:
Locksmith & Home Security Technician
Program Details:
Getting a career diploma in as little as 5 months.
Gain experience with practical exercises and interactive assignments.
Learn how to identify, create, and duplicate keys.
Learn to work with several types of locks including safes, valuts, and auto.
and more...
Sponsored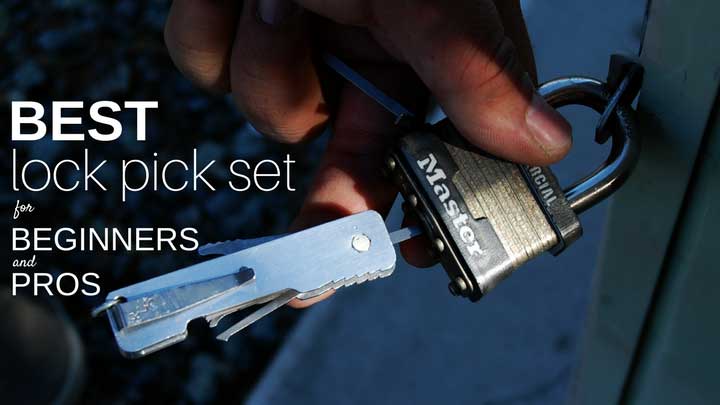 The art of lock picking dates back as far as the 1750s (that we know of) when King Louis XVI of France became obsessed with designing and manipulating locks. It all started as both a hobby and a profession and continues to still be popular today.
I personally keep a 14-piece SouthOrd lock pick set in the door storage compartment of my car. I mostly use the kit for fun but have actually prevented myself from being locked out several times in the last few years.
We took the time to look through 50+ lock pick sets for professionals and beginners in order to determine the best.
Our #1 Pick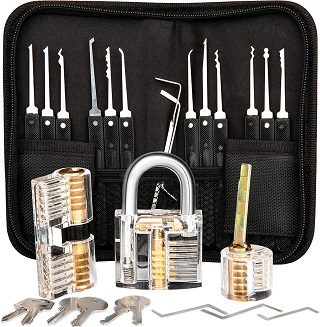 Stainless Steel Multifunctional Tool Pick Set 17pcs
Of all the options we tested, we think the Stainless Steel Multitool Lock Set will fit the needs of any beginner.
What's really nice about this set is it comes with a cutaway practice lock, so you can actually see what you're doing when you attempt to pick your first lock.
Also Great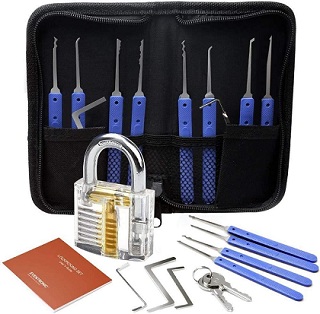 22 Pcs Lock Repair Argot Stainless Steel Set with 1 Lock Blue Handle
This Lock Pick Set is one of the more interesting options for beginners, especially if you want to carry your lockpick set with you.
Keep reading to check out the rest of our research.
3 Things to Consider Before Buying
Once you venture into the world of lock picking you'll quickly realize there are a lot more details than you ever knew. For example, there are varying picking techniques, lock types, and pick tools. We didn't want to make it overly complicated, so if you keep these three things in mind you'll be well on your way to a good set.
1. Narrower = better…in most cases. Your tool and tip sizes will vary, but find a set that has several narrow picks. The slimmer the tool, the more space you'll have to work with.
2. Beginners should buy one set, master that set, and move on. Don't spend a fortune, you can find a good quality set that is still in the $10-$20 range.
3. Buy from a reputable brand. If you stick to our top 10 table below you'll be good to go, but don't sacrifice saving a few dollars for an unknown brand. I did this with my first set and the picks snapped in half literally minutes into my first practice lock.
Top 10 Lock Pick Sets
Where to Buy Practice Locks
After you get your first lock pick set, the very next thing you'll want to do is pick up a mixture of practice locks. At first, don't worry too much about the locks, you're just looking for a good assortment of lock types.
Grab 1-2 of the following:
And here's where you can grab some of these locks:
Amazon. This is by far the easiest and safest place to pick up locks, but some of the options below may be slightly cheaper.
Craigslist. Be wary of most deals, but if you can find a locksmith going out of business then you hit the jackpot.
eBay. Often times you can find a "bundle" of something selling 10, 25, or even 50 locks.
Local Locksmith. Ask specifically for used or cheap locks that they may be scrapping.
Forums. There aren't a ton of locksmithing or lock picking forums, but you can try Lock Picking 101 or Key Picking.
Thrift Store. I've only found a few here, but you can check places like Goodwill, Salvation Army, or your local SPCA if they have a donation store.
Retail. Places like Wal-mart of Home Depot should be a last resort because you'll likely pay a higher price, but these places still work.
Final Thoughts
While this guide has been more geared towards what lock pick set to buy, and where to get some of your first practice locks, you may also be curious about how to actually get started lock picking.
This YouTube series by Schuyler Towne is probably the best place for a beginner to start. Click here to watch it.
Enjoy your new-found hobby, and last but not least, always use your lock picking powers for good!
(Note: we've received a few comments about lock pick guns, and plan to cover that in another article soon)